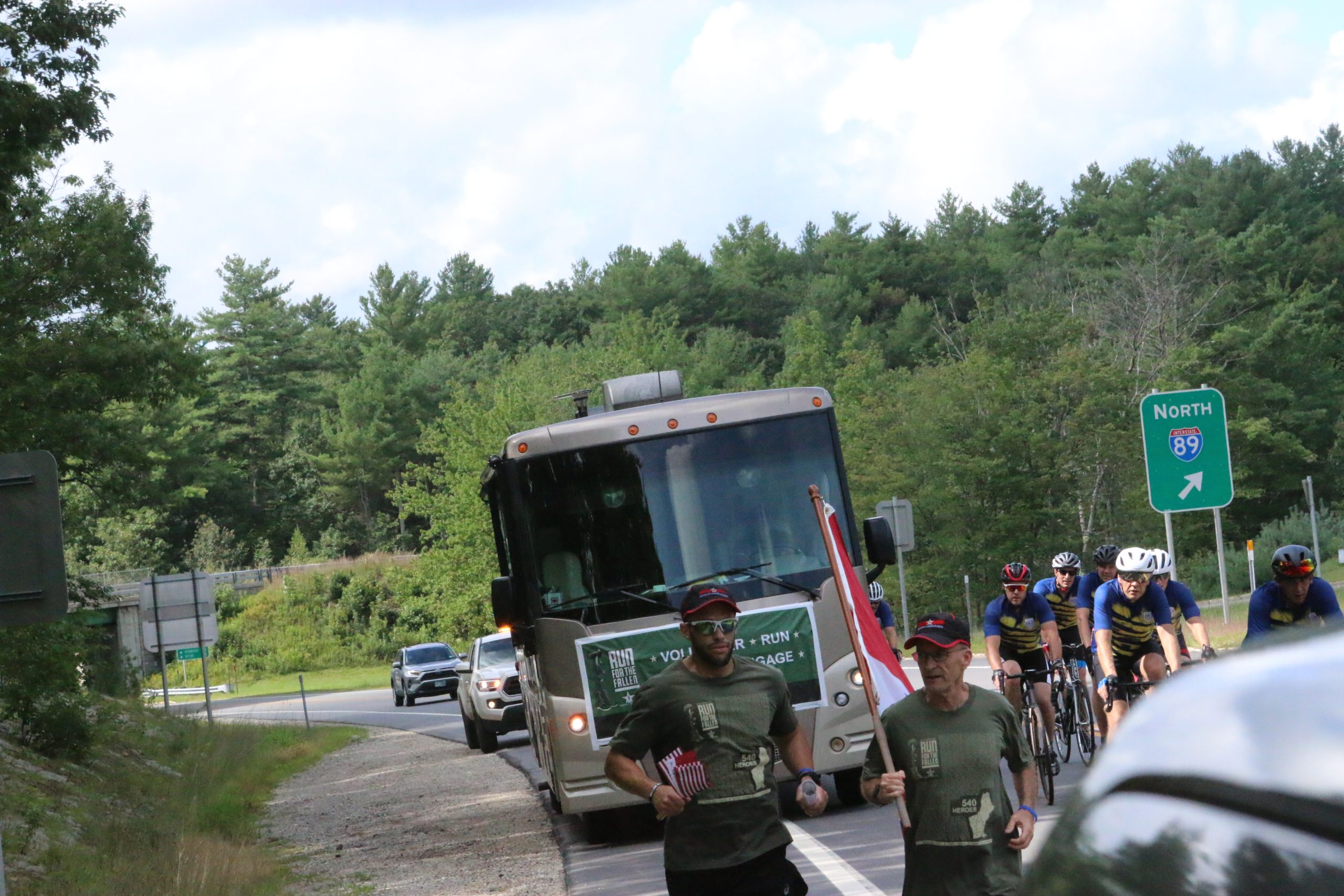 I am thankful to be joining the Run for the Fallen family as we bring honor and remembrance to New England's military fallen and their families.
I am thankful to be joining the Run for the Fallen family as we bring honor and remembrance to New England's military fallen and their families.
Join NEW ENGLAND'S
CORE RUN TEAM
Cushman Park Bernardston Mass to Kittery Maine | 140 miles
SERIOUS RUNNERS ONLY PLEASE 
We are assembling a small group (20 maximum), of active or former military personnel or dedicated athletes to comprise a core team of runners committed to a 3-day 140 mile tribute run. The run has a specific timetable for each marker throughout each day. Runners need to be flexible, willing to run on any given day and when needed. RAIN OR SHINE.
Runners will run approx. 1 mile for every New England fallen military hero who died while serving during the current war on terror, stopping to salute and give tribute by name at every Hero Marker, briefly greeting family, friends and comrades who may be waiting nearby. Stopping no longer than 90 seconds each.
Each runner must be physically capable of a consistent 8-9 minute mile for 2 mile legs. Core teams will regularly rotate over the 3-day period. We are not looking for quantity of runners but a solid team dedicated to the remembrance of those who gave their lives and their families. This route will be grueling at times because the trail winds through many hilly areas as we in New England. A specific pace must be maintained in order to timely greet waiting families.
If you are interested in becoming a part of our core team or be a drop-in runner contact Newengland@RunfortheFallen.org.
Meet This Year's NEW ENGLAND
CORE RUN TEAM
I am a 23 year Veteran of the Air National Guard and a lifelong runner. For three years I have been a Core Runner with the New York Run for the Fallen, 2016, 2017 and 2021. I helped NYRFTF as a volunteer when I had a running injury in 2018. I am also a New England Native having been born in Quincy, MA when my Dad was stationed at the Boston Navy Yard. I have lived in CT, VT, MA and many years in NH. I was a proud member of the NH Air National Guard for 12 years with the 157th ARW at Pease ANGB. I was a Dirt Boy (Heavy Equipment Operator) in the Civil Engineering Squadron. I was a Dirt Boy for my whole career in the Guard! I also served in the 434th ARW at Grissom ARB in Indiana and the 174th FW in Syracuse, NY.
I have run the NY Run For The Fallen for 3 years. I am a civilian. My father and his brothers have served in the Army. I run with the flag every time I run because I do not want myself or others to ever forget our Veterans/Heroes sacrifices. We don't know them, but we owe them.
I love the mission and purpose of the run and the belief that no hero should ever be forgotten. The idea of being able to run in honor of those who have given the ultimate sacrifice inspires and motivates me to give life its all every single day. I am honored to have the privilege to run for those who cannot and continue to spread their legacy and remembrance. I am a Junior at Norwich University where I participate in AFROTC and currently live in New Hartford, NY.
I've been serving throughout the Army through the last 8 years. Currently, I am also a supply chain analyst for the Navy in Newport Rhode Island. I have participated in numerous marathons, obstacle course races and rucking events. This will be my second Run For the Fallen event. 2017 was my first when i ran with a good friend, Adam Stroik, in support of the loss of his fellow comrade Staff Sergeant Mark Allen Stets Jr. This year I will be running for the same purpose.
I am a civilian whose family members were some part of military. My brother is retired from the Army, and my uncle who is also retired Army served as Secret Service for President Ronald Regan. I feel the Lord gifted me with the ability to run so I by the motto, "I run for those who can't". Thanks to FT Stewart Chapter of RWB I was connected with Honor and Remember organization to help run for the fallen in GA. Then continue to run as many locations as I can.
I am a 19 year, and counting, veteran of the Air Force. My wife, 2 children and I live just north of Albany in Saratoga Springs, NY. Running has been a passion of mine for a longtime, but nothing compares to running for our fallen. The most meaningful and special miles I've ever run have been with my NYRFTF family to Honor and Remember our fallen military heroes. I'm honored to say I have run all 6 years and have been lucky enough to serve as the runner coordinator the last 2 years. I'm truly grateful for the opportunity to join the first New England Run For The Fallen.
CMSgt Mike Taylor has been in the Air Force for 28 years and is stationed at Robins AFB, GA but will be moving to Peterson AFB, CO in May. He has been a core runner for Georgia Run for the Fallen in 2019 and 2020 and Florida Run for the Fallen in 2021 and is looking forward to participating in Virginia, Colorado and Georgia in 2021. My first Run for the Fallen event was the inaugural Georgia run in 2019, and at the time I had no idea what the event really was. I will tell you that I was not physically or emotionally prepared for what happened. However, there was something about being surrounded by so many inspirational people all driven to remember our fallen by reading their names every mile of every day. The pain and fatigue we felt was nothing in comparison to the sacrifices made by our bother and sisters in arms and more importantly, their families. I've met some lifelong friends and many heroes along the way and look forward to continuing to run for those who can't.
I am originally from upstate NY, but am currently stationed in Newport, RI as a Navigation Instructor. Running has always been a big part of my life, but it wasn't until my first marathon- the 2016 Marine Corps Marathon- that I realized how much weight the sport carries. While stationed in Virginia I had the opportunity to participate as a core runner in the 2019 VA Run for the Fallen, which was one of the most rewarding and humbling experiences I've had to date. I am so excited to be a part of this year's New England Run for the Fallen team!